I'm not sure if it's the heat and we are all forced into our skivvies or what but blog land has been booming with healthy inspiration for weeks now and I am loving it!!! I have been eating healthier and working out on my own but now Kristen and Raven have started a link up, the perfect way to help keep us all on track.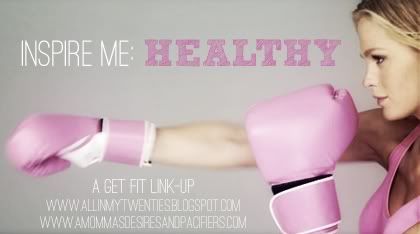 Height: 5'5''
starting weight before I was pregnant: 135-140
Final weight during pregnancy: 166
Current Weight: 144
Goal Weight: 130-135
Goals:
Workout 4-5 times a week
Cook 4 times a week
Drink 8 glasses (64 oz) of water daily
I have been told that while I am still breastfeeding my body will hold onto some of the fat that it needs. So while I am not going to dwell on the POUNDS at this point (my baby is #1) I want to feel better and get back in shape so I am going to track progress, workouts, water intake and weekly meals just to keep myself accountable! Even if you aren't shedding pounds, guaranteed if you are working out, and eating better you will start to feel better and that is great motivation right there! Here's to getting healthy and feeling great! Hope you will join!